Ruggels' Photograph Re-Touching Service
This page has an example of the corrections I can do for damaged daguerreotypes. The first page of photo corrections I have for you has examples of fixes for scanner, film, and environmental problems, on color film; and the second page has examples of re-touching aged and faded black & white film.
If you've got any photos or daguerreotypes with these kinds of problems, I can do work like this for you too. Just e-mail me and tell me what you've got, and we'll work it out.
Damaged Daguerreotype Correction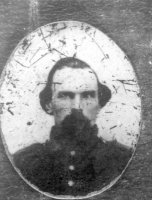 Before: here's the original -- really badly scarred and with a lot of problems. My father approached me with this one, asking if I could "clean it up" for him. It needed it... you can't really see them in this scan, but there were even heat bubbles on the daguerreotype itself!
This is the service photograph of Abraham Cassel, one of my relatives on my dad's side, taken during the Civil War.
You can click on both thumbnails and see clearer versions that are no larger than 40Kb, or you can get the really BIG version on the "After" graphic in another window, which is 276Kb and is here.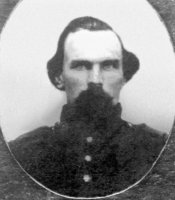 After: you can't see the damage now, and the picture is actually cleanly visible again, without the huge scarring problem. Also, I was careful not to clean it up too much, because if it were "perfect" it would have looked really weird -- most daguerreotypes have at least a little bit of wear and tear on them, and I wanted this to look right, like a proper daguerreotype.
This picture took a lot of handwork to correct, and was one of the most time consuming to do. The job also required some research into the type of uniform he was wearing, so I wouldn't inadvertently "correct" out a pocket, rank insignia, or taxonomically significant seam. For the curious, he's wearing an M1858 tunic.
---
---