Ruggels' Photograph Re-Touching Service
This page has examples of re-touching on old black & white photos. The first page has examples of corrections done for scanner, film, and environmental problems, on color film; and the third page has an example of a fixed-up daguerreotype. I think it's the most impressive of the group, myself -- it started out really messed up.
If you've got any photos with these types of problems, I can do work like this for you too. Just e-mail me and tell me what you've got, and we'll work it out.
Aging & Fading Correction on B&W Film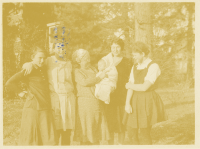 Before: this is a black & white photograph that was taken in 1928. It's badly faded with age to almost nothing -- only a light sepia contrasts with the ivory of the aging photographic paper. You can see other damage too across Aunt Becky's face, where you can see dark blue speckles due to the writing on the back of the photo bleeding through the paper.
You can click on both these "Before" and "After" photos to see larger and clearer versions of them open up in another window for you. The "Before" photo is 234Kb, and the "After" is 308Kb.
All the photos on this page are of the various branches of the extended Wills family, which is my mom's side, and are reproduced here with permission.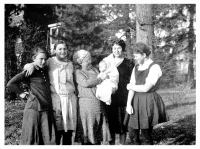 After: here's the fixed photo. The contrast and overall tonal range have been restored, and the photo is now black & white again. The ink damage was removed with a lot of hand work, and the contours of Aunt Becky's face restored. This sort of restoration can be done with paper tearing, water damage (to a point), and ink damage. If a sepia tone was wanted by someone, I can accomodate that too, though for the reconstruction of faces it is necessary for you to provide me with other images of the individual's face so the features can be accurately restored.
---
---