AIRSTREAM 345 CLASSIC MOTOR HOME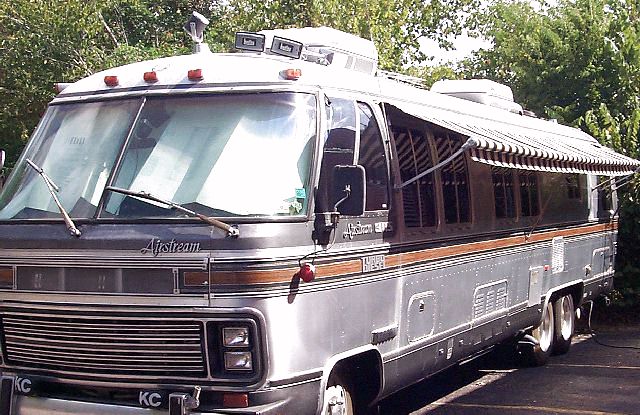 Shown in picture: Dual fog lamps w/covers, first left side compartment hold air horn tank, next to rear is generator compartment, next is hot water heater compartment, next (above wheels) is access to rear of refrigerator, then heater vent, then miscellaneous compartment, then small door (barely visible) for water tank filling. Lower storage compartment just forward of wheel well. Lower rear compartment has dual cable reels for AC shore power and external water hookup. Also has cable TV antenna input for built-in television distribution system. The awnings retract for traveling. On top you can see 2-AC units, with TV antenna between with dual air horns up front and the remote operated search light.
The following pictures will have annotation as to what you are looking at in each picture. This is a 1985 Classic Airstream 345 (34.5') Motor home with every conceivable extra added. This is what is known as a Class "A" motorhome. All items were standard unless marked as "optional". All items listed were purchased originally with this motorhome. The major features are:
Isuzu Industrial Turbo Charged Diesel as provided by GM Corp. (Option)
34 ft. 6" length of coach
General Motors Chassis
Tag Axle's for extra length
Air Bag suspension
Dual Air Horn (Option)
80 gallon diesel fuel tank
80 gallon drinking water tank
80 gallon holding tank
Electric Step (Option)
10 gallon Hot Water heater (Option)
CB Radio (Option)
Cruise Control (Option)
Spare Tire and Carrier (Option)
Security System (Option) - disconnected at present
Trailer Hitch (Option)
Water Purifier (Option)
Steering Stabilizers (Option)
40 gallon propane tank w/automatic safety cutoff
Built-in rear view television camera and monitor (Option)
Alcoa Aluminum wheels with low air pressure warning transmitters (Option)
Michelin Tires overall in very good condition w/lots of tread (Option)
Dual Driver/passenger fans (Option)
2 - Air Conditioners/Heaters on top of coach
Automatic power conversion between AC/DC operation of coach
6.5KW ONAN Generator w/very low hours - with following features:
(will run both AC's on top at same time, or will operate 1-AC with
Microwave on at same time or a variety of power combinations -
all controlled by a manual switch in the kitchen area)
External Storage Compartments on both sides of coach, all locking
Separate locking battery compartment w/power on-off manual switch
Remote operated television antenna for height and turning
Built in antenna distribution system w/outlet in front and rear of coach
Remote operated search spot/flood light (Option)
77,000 original miles
2nd Owner Motor home
2 Leather Captains Chairs - Drivers electric operated (Option)
Sony 10 CD changer & hi-output amplifier w/speakers throughout
(Radio was stolen - needs to be replaced) - (Option)
Left Side Front - 3 person couch, turns into double bed
Right Side Front - two swivel chairs w/center console with:
(fold down card table top and built in TV with VCR on side) -TV (Option)
GMC Built in dash vehicle air-conditioner
Dinette folding table w/2 cushioned opposing seats
(turns into double bed, 1 - large person or 2-children)
Double sink w/sprayer
Insta-Hot hot water at sink (Option)
Water Purifier (Option)
4-burner propane cook top w/ exhaust fan
Built in microwave/convection oven
Built in Ice Maker (Option)
Large Refrigerator w/freezer compartment
Dual high output BTU heaters each w/thermostat control
Gas Leak detection system (Option)
Stand up shower with light, power air vent, folding shower door in separate compartment
Flushing toilet, sink, vanity lights, with door in separate compartment
Storage in above compartment bins throughout coach
Storage below seats, couches, beds throughout coach
Triple full size hanging closet in rear bedroom
Vanity Mirror/lights in retractable compartment in rear bedroom counter top
Lots of storage drawers in rear bedroom
Built in bedroom digital wall clock
Double Bed (new) for rear bedroom w/storage under bed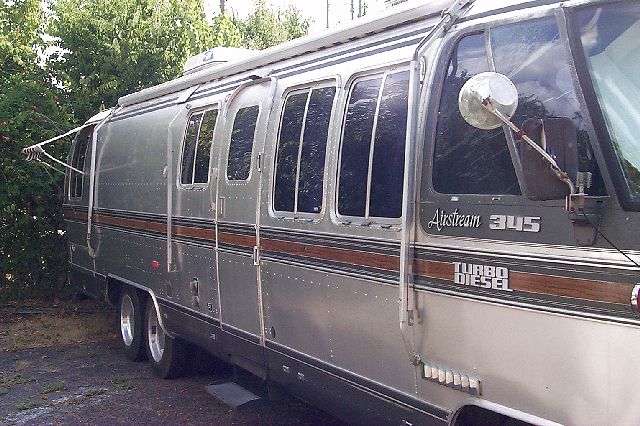 Entrance step to coach retracts when engine is put into gear, from just in back of the front passengers area all the way to the back awning that shows extended (rear bedroom), there is a full length major awning in retracted position that pulls out for a lot of shade. Lower front compartment is for batteries, small one just in front of step has storage space (currently used for oil and oil filters), with a lower storage compartment in front of wheel well, and a very large on at the rear of coach (under awning).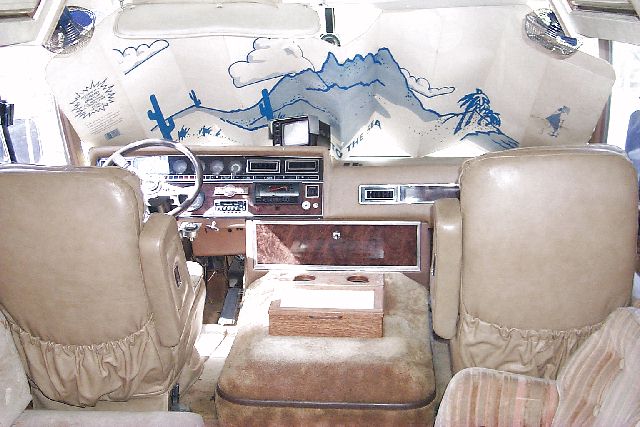 Shown, dual leather captains chairs, drivers controls, large dashboard storage compartment which also has fuse block in it, TV rear view monitor that turns on automatically when you put the coach into reverse, but also works manually, dog-house for engine compartment, auxiliary storage w/drink holders on top of dog-house, dual fans on either side of front area, and folding sun-screen to keep out the hot Texas sun in the summer! Also shown on left is a portion of 3-person couch that turns into a double bed and on the right a swivel chair for visitors.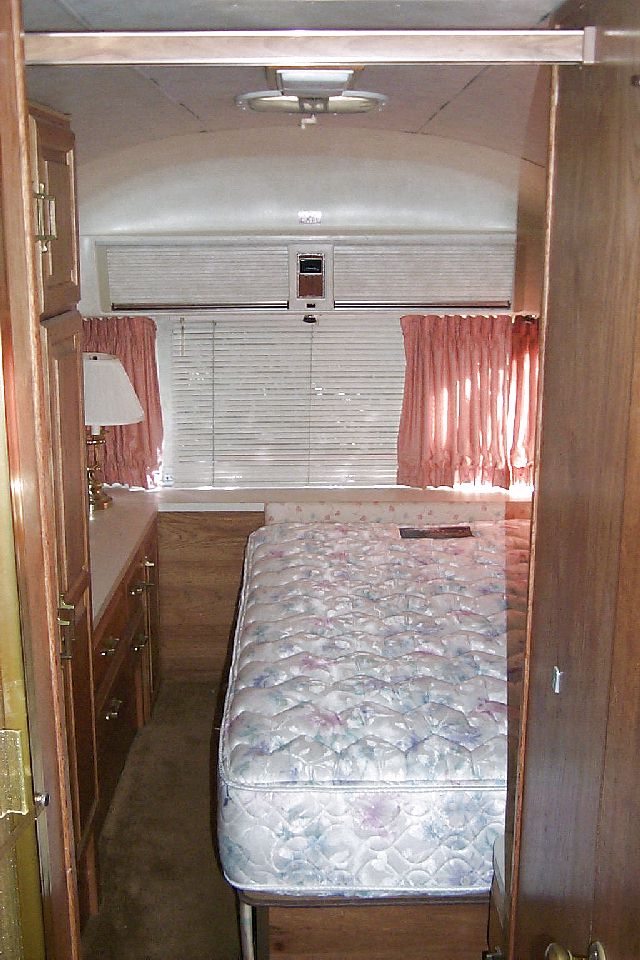 Rear view from kitchen area - top shows power air vent and the bar across the top is an accordion style sliding door to close off the bedroom from the rest of the coach. Shown above blinds is the digital clock and you can see a small reading lamp that is one of several in this area. Also shown is the new mattress (very comfortable unlike the one that came with it that gave me a back-ache), an AC operated lamp, storage compartments, and one of the doors to the full size hanging closets. On the left is the bathroom shower door handle and on the right is the handle to the main bathroom area that is enclosed.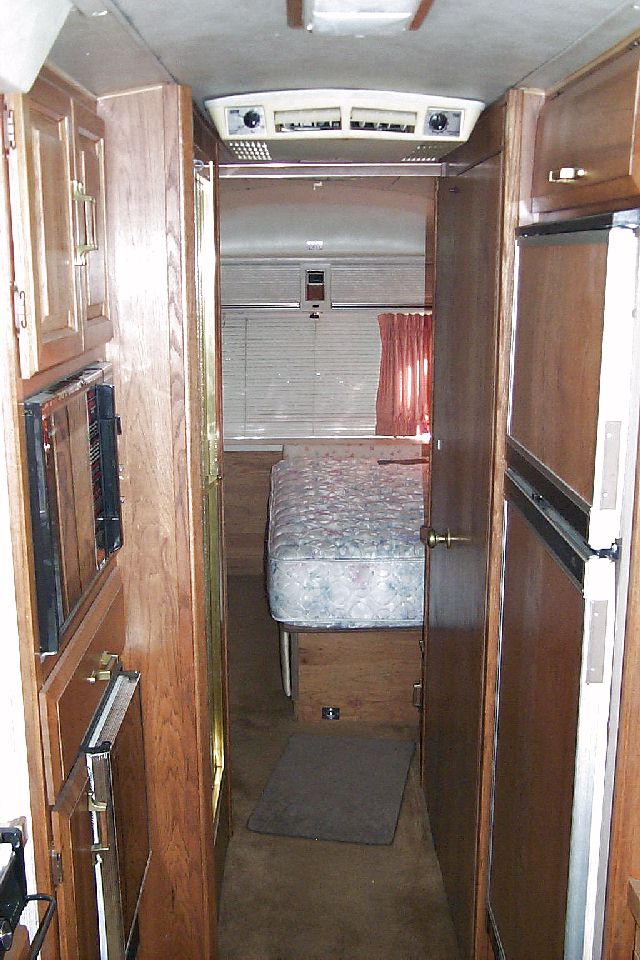 Backing up a little give us a better prospective of the shower and bathroom area. In this picture is shown the refrigerator and freezer on the right with storage, microwave/convection oven/storage/icemaker on the left from top to bottom.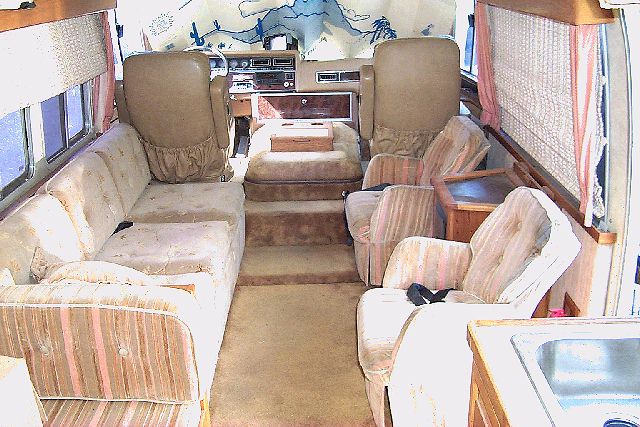 Turning around looks to the front from in the kitchen and you can see the matching cloth covered shades, on the left is the 3 person couch that turns into a double bed and there is storage all below this couch, then on the right are the two swivel chairs with game table and TV console in the center. Not shown is a VCR attached to the side of the console on the front side that you can't see in this picture. Also on the right is one of the kitchen sinks.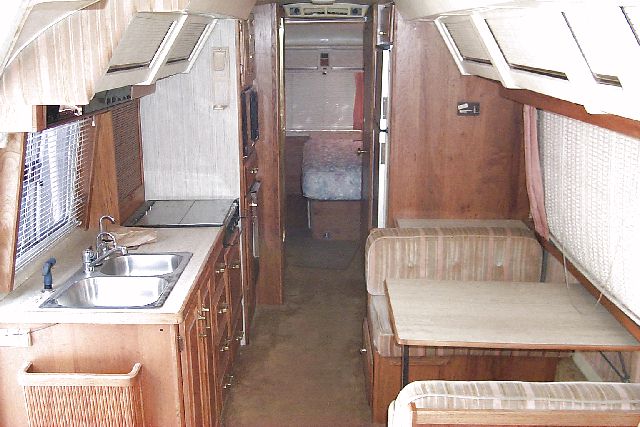 Turning around you can see the kitchen on the left and the dinette on the right. The dinette table folds down, the cushion backs fill in the void and you have a bed that will sleep two children. On the left from front to rear, a magazine rack near the step-down through the main door, double kitchen sink w/spigot and spray, with "insta-hot" hot water spigot, then there is a paper sack I forgot to move because it is covering a kitchen appliance for mixing, blender, etc that is power driven, then a retractable stove cover that has 4 propane burners and in back of the stovetop is a tambour door that retracts for spices, etc. Above this is the control for a power kitchen vent for cooking and the black thing you see above the kitchen blind is the power monitoring system that shows how much water you have on board, how full your holding tanks are, how much propane you have left, condition of batteries, etc., etc. On the right side behind the dinette wall is a heater thermostat. There is a heater for the front of the coach and same for the back and both have thermostats for automatic control. They have automatic starters built in and both run off of propane. During the winter if plugged into AC the two top AC units are also heaters so you can heat using available shore power instead of using up the propane. Also in this view, you can see the rear top mounted air conditioner/heater showing near the bathroom area. It has dual vents forward and backwards to the bedroom.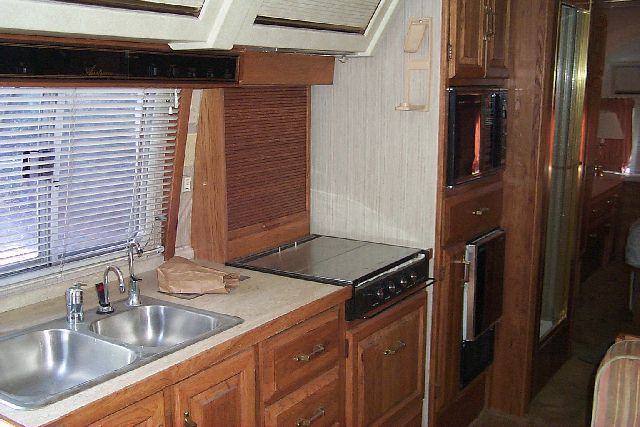 You can see the kitchen area a little better in this shot, under the paper sack you can just see the kitchen appliance showing and on the back wall, you can see a place for paper towels. between the window and spice cabinet there is a switch for the instant hot water, a dual AC power outlet and a water pump switch (if you are hooked up to external water, you don't use the pump as you take in water and it drains back out through your sewage connection which is common in trailer parks, campsites, state parks, etc. You can also see all of the storage. The large storage compartment under the stove top is for pots and pans.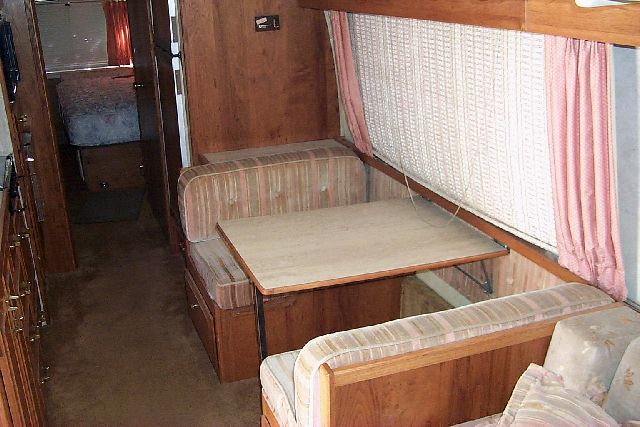 I'm not sure why I took this one, but it basically shows a better view of the dinette table.
Well that's about it, through with an Internet walk-through of this Airstream. I purchased this motor home in 1990 and have owned it ever since. It had about 35,000 miles on it when I bought it. It now has about 77,000 miles.
The NADA and Kelly Books list that this coach with Gasoline engine would wholesale about $23,000 without all the extras that are on this coach. Wholesale is about $25,000 with the heavy duty diesel. The extras on this coach add a little more than $ 3000 with the add-on prices to the stock coach. Then we added about $ 2,000 of items to it ourselves. Most RV Dealers will rate this RV with a retail in the low to mid $ 30's. When new this motor home was about $ 110,000. The last Classic models (before Fiberglass) were about $ 150,000. There were basically two floor plans with the front areas the same, but they had one floor plan that split the bedroom into beds, one on each side, with a bathroom in the far rear. This floor plan is by far the most popular. Also you will note that all the wood work in this coach is the real stuff, it is all Walnut throughout, and all in very good condition.
I have just checked this unit out and everything works perfectly with the following exceptions: You need to add a new Radio to drive the built in amplifier and CD changer. The radio was taken out to get it repaired and was stolen from my automobile and just haven't had time to get another radio for it. A radio should cost no more than $ 350 even if you go whole hog. Also the front draperies are down because the draperies need to be replaced. A custom set of drapes for the entire coach costs about $ 650 from a company in Florida that makes them. We have not replaced them because we felt that whoever bought it would want to pick out their own color and material. The draperies in the rest of the van and in the rear bedroom are still up but of course, the linings have been sun bleached so long that it would not take much to make the linings fall apart. The only other thing is that the speedometer cable needs to be replaced. Other than these items, everything else works perfectly.
The Bottom Line
So here is the bottom line. We will take $ 25,000 for this motor home as it stands in Dallas, Texas. It can be seen at the Radio Era Archives office in Dallas anytime during the week office hours. The reason for selling? Just don't have time to use it like I used to so its time to let someone else really enjoy this beautiful Airstream. If no one is interested in a few weeks, we will sell it through the paper or through Ebay Motors on the auction block. One way or another, it isn't doing us any good just sitting here so if you have any interest, give us a call any time.
No, I am not in the finance business so this deal is a cash transaction with you doing your own financing. I have current license tags on the vehicle and a clear title to it. So here is who and where I am and this is where it is parked behind my office building. I think you can tell from the pictures and full description that this is a real creampuff of a motor home and camping in this one is really like living at home - without the yard work!!
Terry Muncey
2043 Empire Central
Dallas, Texas 75235
(214) 358-5195
Fax (214) 357-4693
I am sure I've probably forgot to mention something that is on this coach so call at any time during office hours.