7 May 2000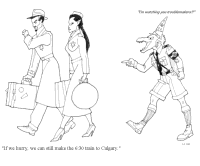 "troublemakers?"
From an article by Mr. Irwin Cotler for the The Stockholm International Forum on the Holocaust:
It is our responsibility, then, to break down the walls of indifference, to shatter the conspiracies of silence wherever they may be. For neutrality, as Elie Wiesel put it, always means coming down on the side of the victimizer, never on the side of the victim. In a word ­ and we must adhere to this ourselves if we are to convey this to others: neutrality in the face of evil ­ whether of individuals or states ­ is acquiescence in, if not complicity with, evil itself. It is not only abandonment of the victim; it is encouraging the victimizer.
Frankly, I stand by the toon. What the Wizzes did was evil and wrong. To be sure, a *little* evil and a *little* wrong, and that's why the wiz figure is in a children's uniform, and has a little bow on her head... but to remain silent is to give them implicit permission. Anyone that doesn't stand against evil is doing evil.